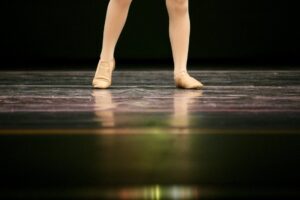 Lisa's School of Dance at Hampshire Township Park District features Twinkle Star Dance™, an age specific 30-45 minute class where dancers learn ballet, tap, jazz/creative movement and hip hop. It is a well-rounded, effective program for teaching technique to young dancers in a fun, accessible way! Classes offered for ages 2-10. Sessions run year round.
Suggested Dance Attire:  leotards, tights, and ballet shoes. Ballet/Tap classes require ballet and tap shoes.
Classes held at the park district on 390 South Ave., Hampshire.
Instructor: Miss Tammi and Miss Nicolette
All classes are independent from parents. Parents can wait in out other room and will be given a Zoom link to watch class since there is no viewing window.
Each class will have a maximum of 12 children/ minimum 4. *Exception: Twinkle Tots: maximum 5/ minimum 4
fall SCHEDULE
Tuesdays, September 7-November 2
Thursdays, September 9-November 4 (Thursday classes are now cancelled due to low enrollment)
This session features a Dance Showcase on November 9!
Registration Deadline: August 30
TWINKLE TOTS Ballet/Tap for ages 2-3
Tuesdays- 4:15-4:45pm, $95/$105nr
TWINKLE STARS 1 Ballet/Tap for ages 3.5-4
Tuesdays- 4:45-5:30pm, $130/$140nr
Thursdays- 4:15-5:00pm, $130/$140nr
TWINKLE STARS 2 Ballet/Tap for ages 4.5-5
Tuesdays- 5:30-6:15pm, $130/$140nr
Thursdays- 5:00-5:45pm, $130/$140nr
TWINKLE STARS 3 Ballet/Tap for ages 5.5-6
Thursdays- 5:45-6:30pm, $130/$140nr
TWINKLE STARS 4 Ballet/Tap for ages 6-9
Thursdays- 6:30-7:15pm, $130/$140nr
SHOWSTARS HIP HOP/JAZZ for ages 5-7
Tuesdays- 6:15-7:00pm, $130/$140nr
SHOWSTARS HIP HOP/JAZZ for ages 7-10
Thursdays- 7:15-8:00pm, $130/$140nr
DANCE SPECIAL EVENTS
Special Dance Events pop up throughout the year, check back soon!
Convenient online registration always open for the Hampshire Township Park District.