Registration will open Friday, June 16th!
The Hampshire Township Park District Youth Soccer League program is designed to teach young athletes progressive soccer skills in a supportive environment. All home games for each age level will be played at Bruce Ream Park. Away games will be played in surrounding communities. All agencies are dedicated to fair play in a true recreational league that fully supports age group guidelines. NO DOGS ARE ALLOWED AT THE PARK WHILE PARK DISTRICT PROGRAMS ARE IN SESSION.
Coaches please volunteer! Head and Assistant coaches needed.
Contact Michael Prill if interested michael@hampshireparkdistrict.org
Locations
U4 – 1st/2nd Grade: All games played at Bruce Ream Park
3rd/4th- 7th/8th Grade: Home games played at Bruce Ream Park and away games played at Huntley, Dundee, and  Genoa Park District
Practice
Practices will be held once a week for one hour beginning the week of August 21st. Practice times are determined by volunteer head coaches. Times and practice days will vary and any conflicts should be made known during your registration.
Games
Games will be held on Saturdays with a chance of a weekday game on the schedule if there is an uneven amount of teams or weather causes a canceled game. Game times will change throughout the season. Games will begin September 9th and end October 28th.
Age Brackets
Hampshire Township Park District will now start going by grade level for most age groups that play outside park districts to match their programs. U4, U6, and 1st/2nd(U8) will continue to be played against Hampshire Township Park District only teams exclusively. If you find that your child is in between groups, or have questions on which age group to sign up for; Please contact Michael Prill: Michael@hampshireparkdistrict.org
Born 2019 – 2020 (U4 Co-ed)
Born 2017 – 2018 (U6 Co-ed))
1st-2nd Grade Co-ed
3rd-4th Grade Boys
3rd-4th Grade Girls
5th-6th Grade Boys
5th-6th Grade Girls
7th-8th Grade Co-ed
A child is allowed to play up an age group if requested, but must be done in person. No child is allowed to play down a grade level.
Requests
Coach requests will be taken, but with a priority of team balancing the request is not guaranteed. A single friend request between two participants and preferred practice day will be considered, but not guaranteed. The Friend Request Form can be found on our website under Registration or stop by the park office to pick up the form.
Uniforms
*Not included in program fee for U6 and up*
U4 T-shirt included in program fee. You may use your own shorts/pants/socks.
U6/1st/2nd-3rd/4th Grade Reversible jersey required. You may use your own shorts/pants/socks.
5th/6th-7th/8th Reversible jersey required. Black shorts and purple socks required. May use your own black shorts or purple socks if you have them.
Uniform Package Fee $44, includes jersey, shorts, and socks **TO ORDER THE UNIFORM PACKAGE YOU MUST ADD "UNIFORM PACKAGE" TO CART.**
Individual pieces may be purchased: Jersey – $25, Shorts – $12, Socks – $8 **TO ORDER UNIFORM PIECES YOU MUST ADD JERSEY, SHORTS OR SOCKS TO CART.**
Fees
EARLY BIRD DISCOUNT UNTIL 11:59PM ON JULY 10TH: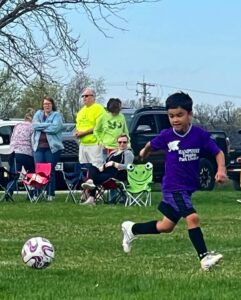 U4 COED- $72/ $90nr
U6 COED- $98/ $118nr
1ST/2ND COED- $118/ $148nr
3RD/4TH grade BOYS- $131/ $163nr
3RD/4TH grade GIRLS- $131/ $163nr
5TH/6TH grade BOYS- $137/ $170nr
5TH/6TH grade GIRLS- $137/ $170nr
7TH/8TH grade COED- $144/ $174nr
NORMAL FEE PRICING RUNS JULY 11TH –AUGUST 7:
U4 COED- $87/ $105nr
U6 COED- $113/ $133nr
1ST/2ND grade COED- $133/ $163nr
3RD/4TH grade BOYS- $146/ $178nr
3RD/4TH grade GIRLS- $146/ $178nr
5TH/6TH grade BOYS- $152/ $185nr
5TH/6TH grade GIRLS- $152/ $185nr
7TH/8TH grade COED- $159/ $189nr
Registration Deadline: August 7th or when maximum enrollment is reached. A $15 late fee will be added if registered past the registration deadline. Waitlist will start when levels hit maximum enrollment. If we are unable to roster your child from the waitlist, you will receive a 100% refund.
Convenient online registration always open for the Hampshire Township Park District.