History of the Foundation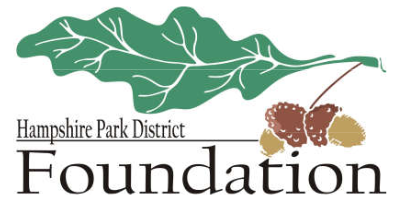 Established in 2007 by the Hampshire Township Park District Board of Commissioners, the Hampshire Park District Foundation is a not-for-profit 501 (c) 3 Corporation. As such, it is an independent non-governmental organization founded to support, accept and distribute funds for the capital development of present park district facilities, for the advancement of park district programs and to hold and convey land for future development of public parks.
The Foundation is structured to accept funding for either specific programs or general current project needs. As such, all residents can participate in foundation giving. Small donations and in-kind gifts are evidence of community pride. Large donations that are earmarked for capital improvements leave a lasting legacy and stretch tax dollars.
---
Foundation Programs
Scholarship Program
You can make sure every child in Hampshire Township who wishes to take part in Park District programs has an opportunity to do so. Park District staff administers the program that requires an application and submittal of current financial documentation.
*Must be a Hampshire Township resident to qualify for scholarship funds.
In-Kind Donations
Individual and companies may support the foundation with in-kind contributions of professional skills such as landscaping and building trades, gifts of material for a capital improvement project, or designated giving. Examples of items that could be donated include: Picnic table, park bench, playground equipment, ball-field upgrades, athletic equipment, landscaping, etc.
Cash Giving
Individuals or companies that make donations to the foundation can be assured the money will go to a park or facility improvement. Donations may be earmarked for a specific program, i.e. Fire Truck Playground. Other cash donations will go toward general current project needs. The foundation board receives a list of capital improvements needed from the park district board of commissioners and staff. The Foundation Board will then determine how the money is spent.
---
Benefits of Donating
Make a tax-deductible personal or corporate contribution to the Hampshire Park District Foundation. The Foundation is a 501(c)3 organization, and all donations are tax deductible as allowable by law.
Bequeath land, property, cash or securities. Your bequest will help to assure that future generations will enjoy the green of open space.
Purchase a living memorial of a tree to planted in a park in a location you choose for future generations to enjoy.
Help improve the parks through purchasing a bench, add landscaping, or install a park sign.
Give the gift of your time by volunteering to help the Foundation accomplish its goals and missions.
---
Contact the Foundation
Check donations should be payable to the Hampshire Park District Foundation and mail to P.O. Box 953, Hampshire, IL 60140.
Have more questions?
Please email by contacting Laura Schraw, Park District Executive Director at 847-683-2690 or laura@hampshireparkdistrict.org for more information.
---
Projects in our Community
Veteran's Memorial at Seyller Park
The Veteran's Memorial was built by the Hampshire VFW in 2020. Through your generous donation, the memorial landscape can be changed with the seasons and for special events. Please use the button below if you would like to donate. Questions? Please contact the Memorial Committee Chair at memorialcommittee@hampshireparkdistrict.org. Volunteers are needed to help with projects and fundraising!

Would you like to honor a
 loved one at the Veteran's Memorial at Seyller Park? Engraved pavers or wallstones can be purchased as a part of this memorial. For more information please contact the Hampshire Lions Club.