Registration Deadline for Youth Dance
January 4, 2022 @ 8:00 am

-

11:30 pm
LISA'S SCHOOL OF DANCE AT HAMPSHIRE TOWNSHIP PARK DISTRICT
Lisa's School of Dance is thrilled to be continuing and growing at Hampshire Park District! We are in our 6th year with the Park District and continue to add new and exciting classes to fit the community's needs. We are also excited to have added an additional day to offer classes on. Lisa's School of Dance is a proud member of Twinkle Stars Dance. Twinkle Stars Dance is an age specific 30-45 minute class where dancers learn ballet, tap, jazz/creative movement and hip hop. It is a well-rounded, effective program for teaching technique to young dancers in a fun, accessible way. Our classes help develop dancer's technique and prepares them for an end of session showcase for all their family and friends to watch. Join in the fun!
Location
Classes held at the park district on 390 South Ave., Hampshire.
Instructors
Miss Tammi and Miss Nicolette
All classes are in-person but independent from parents. Parents can wait in our other room and will be given a Zoom link to watch class since there is no viewing window.
Required Dress Attire
Twinkle Stars Dance: pink or purple leotard, tights, ballet and tap shoes
Show Stars Boys Hip Hop: t-shirt/tank top, joggers/leggings, tennis shoes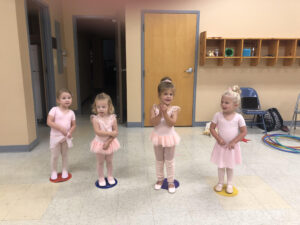 Show Stars Jazz/Ballet: leotard, leggings and jazz shoes
Show Stars Hip Hop/Jazz: leotard, leggings and jazz shoes. Tennis shoes optional.
Click here to purchase dance attire and Shop Dancewear. Please note shoes sizes do not match street shoe size, refer to sizing chart before selecting size to order.
WINTER SCHEDULE:
Offering classes on Tuesdays and Thursdays!
Days & Dates:
Tuesdays, January 11- March 15
Thursdays, January 13- March 17
Dance Showcase on March 22!
Registration Deadline: January 4
Classes and age groups:
TWINKLE TOTS Ballet/Tap for ages 2-3
Tuesdays 4:15-4:45pm $110/$120nr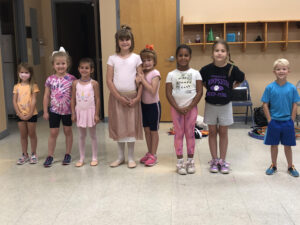 TWINKLE STARS 1 & 2 Ballet/Tap for ages 3-5
Tuesdays 4:45-5:30pm $153/$163nr
Thursdays 4:45-5:30pm $153/163nr
TWINKLE STARS 3 & 4 Ballet/Tap for ages 5-7
Thursdays 5:30-6:15pm $153/$163nr
SHOWSTARS Hip Hop /Jazz for ages 5-7
Tuesdays 5:30-6:15pm $153/$163nr
SHOWSTARS Boys Hip Hop for ages 6-9
Tuesdays 6:15-7:00pm $153/$163nr
SHOWSTARS Jazz/Ballet for ages 7-10
Thursdays 6:15-7:00pm $153/$163nr
Convenient online registration always open for the Hampshire Township Park District.