The Major Twirlettes
2023 winter/spring session
Baton i and baton ii
Come join our very talented Baton Instructor, Lisa Bulow for her fun and creative class where you will learn basic twirls, simple tosses, dance steps and marching! All while improving hand-eye coordination, music & rhythm and self-esteem! Baton I must be taken first to move up to Baton II. Baton II twirlers will continue to build upon skills learned in Baton I at a more advanced level.
Attire
Wear comfortable clothes and gym shoes, pull your hair up and bring your smile!
Performance
Dress rehearsal: Monday, April 3rd
Recital: Friday, April 14th
Performance T-Shirt
If your twirler did not participate in the prior session you will need to order a performance t-shirt. This t-shirt can be used for future performances for twirlers who continue with classes. T-shirts are $15 and can be added to your cart when registering. Please ADD BATON SHIRT to you cart.
ordering a Baton
The session fee does not include a Baton. If needed please ADD BATON to cart. Baton's are $25 and ordered from ABC-American Baton Company Baton . Please measure your child for the baton and email measurement to Stephanie Barone stephanie@hampshireparkdistrict.org by January 4th. Batons will be received at the first class and used for future sessions. How to measure for Baton: have child hold arm out and measure from underarm to tip of middle finger.
Location
Community Room
Ages
5-12, girls and boys
Session
Days: Thursdays
Dates: 12 weeks/January 12- April 13 (No class March 30 or April 6)  (plus rehearsal on April 3 and recital on April 14)
Times
Baton I 5:00-6:00pm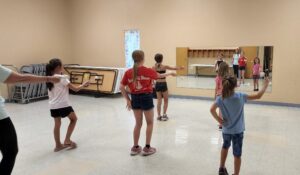 Baton II 6:00-7:00pm
Fee
$165 res/$175 nr
Min/Max Participation: 6/10 
Registration Deadline: January 4
Convenient online registration always open for the Hampshire Township Park District.