Dr. Tom Getzelman Dog Park Registration Form
The Dr. Tom Getzelman Dog Park is located at The Park at Tuscany Woods, 1363 Romke Rd., and has 3 areas for use. Far left: Lunch Area/Party Area – this small area will have picnic tables and be available for pooch-tastic birthday parties once we are up and running! Middle area: Large dog area. Far right: Small dog area
Please note any area might be closed for maintenance/repairs/upkeep.
Admittance is by Dog Park key fob only. Park Residents and Non-Residents can register at the Hampshire Township Park District. Proper ID, valid vaccinations, and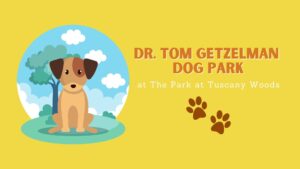 a yearly fee is required at that time. The registration form to use the Dog Park can be found below. You can print it out and bring it completed with payment to the park office. We have form copies available at the office as well.
Dr. Tom Getzelman Dog Park Rules
Hours are from dawn to dusk daily
Dogs must be cleaned up after. Bags and receptacles are available onsite.
Dogs must be leashed until inside the gated area. Please have a leash with you at all times.
It is recommended that dog(s) receive the canine influenza vaccine before visiting the park.
Dogs exhibiting aggressive behavior will not be allowed in the park. Aggressive behavior may result in revocation of dog park membership with no refund.
Owners are responsible for any harm their dog(s) inflict on any other dog(s) or human(s).
Owners are responsible for any damage their dog(s) inflict on any property within the park.
Dogs in heat are not allowed in the park.
Unhealthy dogs are not allowed in the park.
Dogs must have a handler over the age of 18 present at all times.
Children must be age 6 or older to be in the park and must be accompanied by an adult.
Dog equipment must only be used by dogs, no adults or children permitted on equipment.
Handlers are responsible for controlling their dogs at all times.
There is a limit of two (2) dogs per person/handler.
Water is available onsite during warm season months (fountain turned off during the winter). If you bring a water dish, take it home with you when leaving the park.
Smoking is NOT ALLOWED at the park.
Do not let non-members into the park, or allow other dog(s) who are not registered use your key fob to enter the park.
Failure to abide by these rules may result in the revocation of dog park membership without refund.